Teeth Whitening
Teeth whitening is one of the simplest and quickest ways of transforming your smile, and boosting your self-confidence.
Over time, our teeth become stained. Food and drink, particularly coffee, tea, cola and red wine, can cause stains on even the best looked-after teeth, while habits such as smoking can cause further brown staining. Many people also find that their teeth become discoloured as they age.
Teeth whitening is a safe, effective way of removing these stains and giving your teeth back that natural, bright white sheen. It's one of the quickest cosmetic dental treatments available, meaning it's the perfect way to boost your smile before a special occasion.
At Apollonia Dental Care we offer two tooth whitening options: at home teeth whitening and in-practice teeth whitening. It is also possible to combine both treatments.
Before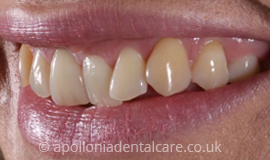 After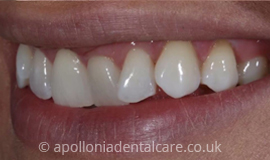 1. Home teeth whitening
Our home teeth whitening kits comprise whitening gel and bespoke tooth whitening trays that are made to exactly fit your mouth.
If you opt for home teeth whitening treatment, you will still need to visit the practice so that your dentist can measure your teeth and take impressions of them to make up your trays. Once the trays are ready we'll see you again and show you how to use them. You should place a small amount of the whitening gel in the trays and wear them overnight for between two to three weeks. The exact time you need to wear them for will vary from patient to patient, and on how many shades brighter you want your teeth to be. Your dentist will advise you how long you need to wear your trays for.
2. In-practice teeth whitening
We use the popular and trusted Zoom teeth whitening system for our in-practice whitening work. For this treatment, you will visit the practice for an hour-long appointment. Your dentist will coat your teeth with whitening gel and all you need to do is sit back and relax while a special light is shone on to your teeth to activate the gel. You will have two 20-minute sessions with the light, with a 20-minute break in between, your full appointment lasting an hour.